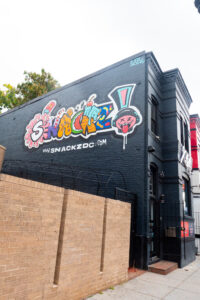 The Uptown NW neighborhood in Washington, D.C., just got a whole lot more colorful and exciting with the arrival of the eye-catching SNACKZ mural. This beautiful illustration of the SNACKZ brand logo embodies the essence of this D.C.-based cannabis culture and clothing brand. SNACKZ isn't just about art; it's about experience, and they offer just that at their U Street dispensary located inside the Xaza Boutique Sneakers and Clothing store. The SNACKZ mural, gracing the side of the SNACKZ and Xaza building, is a masterpiece in its own right. Each letter in the logo is a unique work of art, depicting common snack food items in a whimsical cartoon style, reflecting the brand's youthful and energetic spirit. As the latest addition to the Uptown NW landscape along Florida Avenue, the mural serves as an inviting X that marks the location of the dispensary. So, if you're out for a late night on U Street in Shaw NW DC and seeking top-tier cannabis strains, exclusive mushroom varieties, or a variety of edibles and pre-rolls, the SNACKZ DC Dispensary is just a stone's throw away in the heart of D.C.'s nightlife scene.
2) DC Culture House aka Blind Whino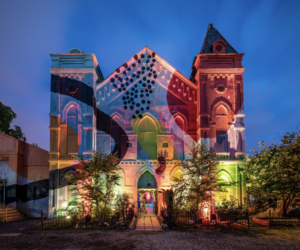 DC Culture House is a haven for art enthusiasts and culture aficionados. Open every Saturday from 11 AM to 2 PM, Culture House is conveniently situated in Southwest Washington, just a short walk from multiple Metro stations and iconic attractions like Nationals Park, The Wharf, the US Capitol, the National Mall, Eastern Market, and The Yards Park. Located at 700 Delaware Ave. SW, Washington, DC 20024, Culture House is not just a gallery; it's a community-driven space dedicated to the transformative power of art. Their mission is to offer a functional art space for all to enjoy and engage with the arts culture through exhibitions, events, live performances, and artist workshops. Embracing creativity to its core, the exterior of Culture House, painted by Atlanta-based muralist HENSE, stands as a symbol of creativity in the nation's capital. As a 501(c)3 nonprofit, Culture House relies on the support of donations and volunteers to fuel the exceptional creative scene of Washington, DC, making it a must-visit destination for anyone passionate about art and community.
3) Ben's Chili Bowl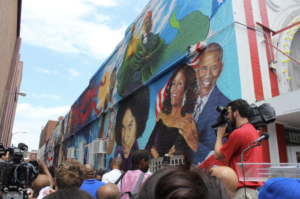 While many visitors flock to Ben's Chili Bowl on U Street for its iconic half-smoke sausage, this beloved D.C. institution is more than just delicious food. It's also home to a spectacular mural celebrating notable Black Americans. The mural's story is as dynamic as its subjects, having evolved over the years. What makes Ben's Chili Bowl's mural unique among the wealth of art in Washington is its sheer size, vibrant colors, and its deep connection to the historic restaurant. Founded in 1958 by Ben Ali, the original location quickly became an essential part of the U Street community, even staying open during the 1968 Riots to feed protesters and police alike. Today's mural pays homage to a diverse array of famous Black Americans, from comedians like Dave Chappelle to historical figures like Harriet Tubman, all with ties to the city's rich Black culture. It's a visual landmark best experienced with a chili half-smoke in hand, encapsulating the spirit and history of this iconic D.C. eatery.
4) BLM PLaza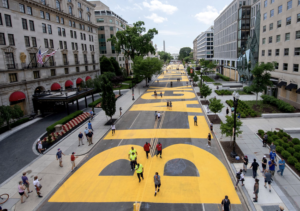 Nestled along a charming two-block pedestrian stretch of 16th Street NW in the heart of Downtown DC, a powerful mural stands as a symbol of solidarity and a call for change. In bold, yellow, and all-cap letters, spanning an impressive 50 feet in height, the mural boldly spells out the words "Black Lives Matter," accompanied by the District flag. This meaningful artwork can be found on the very street officially christened "Black Lives Matter Plaza NW" by Mayor Muriel Bowser, right outside the White House. Accessible to visitors on foot at any time of day, it's a poignant testament to the movement's importance and a must-see attraction in the nation's capital. For those using public transportation, the nearest Metro station, McPherson Square, on the Blue, Orange, and Silver lines, offers convenient access to this powerful display of support and unity.
5) Marvin Gaye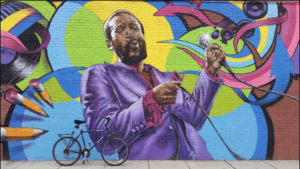 Change is an undeniable constant in life, and in Washington, D.C., it often comes in the form of new construction and renovations. The impact of such change is evident in the story of the Marvin Gaye mural in the Shaw/Uptown Neighborhood. This beloved piece of public art, originally painted by local artist Aniekan Udofia, met an untimely end due to the construction of an adjacent eight-story building. Aniekan knew from the outset that the mural's days were numbered, and he poured his heart and soul into creating a piece that would leave an indelible mark on the neighborhood. When the original mural was lost, it was a bittersweet farewell. However, thanks to the artist's talent and determination, a new Marvin Gaye mural emerged, standing as a testament to the soul of the neighborhood and its undying appreciation for its beloved native son. This vibrant replacement mural is not only a striking work of art but also a celebration of the neighborhood's resilience and the enduring legacy of Marvin Gaye. It's a welcome sight for both local residents and fans of the artist, offering a sense of continuity and artistic rebirth.